About Decadent Daylilies - Quality Daylily Nursery in Australia
Decadent Daylilies is located at Hopefield NSW near the New South Wales and Victorian border towns of Corowa / Rutherglen in the central south part of the Riverina Region. Hopefield is a rural community nestled near the famous banks of the Murray River, NSW, Australia, half way between Canberra and Melbourne. Our property is surrounded by sheep, cattle, grazing and cropping farms and local tourist attractions of Rutherglen's world class wines in north east Victoria.
It is here where we grow our daylilies and Irises and experience a Mediterranean style climate, that gives us four complete seasons spring, autumn, very hot dry summers and cold frosty winters below zero in a lovely quiet rural bush background setting.
During the main flowering season here, October, November and December our temperatures range between 27C and 40+C which brings out the lovely rich colours and this is the best time for me to take photos of any one of our garden plants.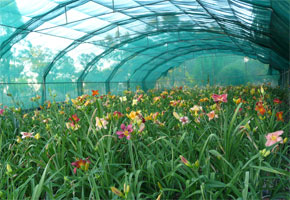 To water our plants the water is sourced from an underground water bore, the groundwater is pumped 400 feet below ground level. Our water bore, house and fish farm is now run by 4 impressive solar trackers and this provides us with crystal clear water to service our house, daylily and Iris gardens, house gardens and native fish farm twenty four hours a day.
We are growers and suppliers of bare rooted Iris, Canna Lilies and Daylilies and do supply these plants at competitive prices to all Australian States and Territories.
My garden has a selection of unique and rare Bearded Iris, Water Iris and Daylilies along with many rare bulbs that I have been collecting for many years.
On my website, you will find listed some of the different perennials, Iris and daylily cultivars that I grow and list for sale.
All images and text on this website are subject to © Copyright and may not be used without the expressed written permission of Decadent Daylilies.

The hardest thing now is deciding which lovely beauty to add to my collection. There is always a new daylily hybrid to tempt me, something a little different to what I already have, or something that one day (I hope) I will be able to hybridize with and create my own 'cutting edge daylily'.
Dreams are what inspire us!
Christine
DecadentDaylilies.com
ph 02 6035 0529